1

VectorPro™ Software and Vector Firmware Release Notes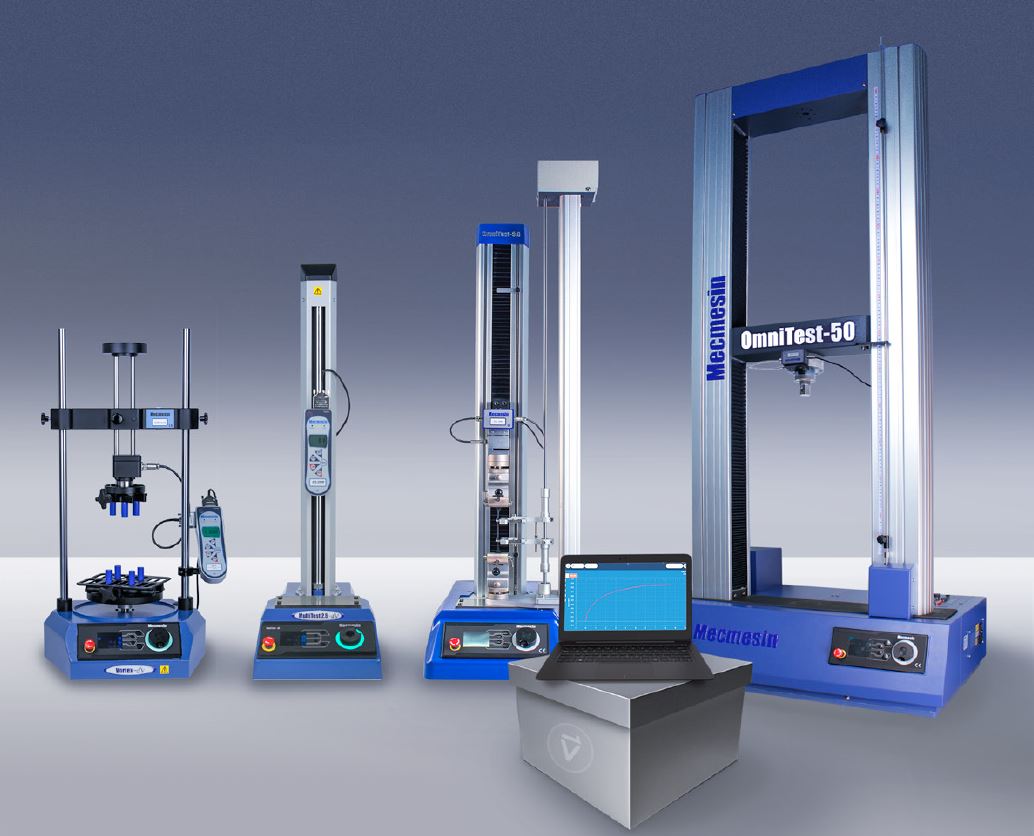 2

Introduction

VectorPro™, VectorPro™ MT and VectorPro™ Lite are all registered trademarks of Mecmesin Ltd.

VectorPro is a dedicated software solution used for the programming and acquisition of data from a range of Mecmesin test stands and instruments.

The software enables users to capture data from Mecmesin test stands and instruments, perform calculations and export/report calculations and test data. In addition, VectorPro can provide secure audit trails and user management systems. Operation sequences can be constructed by intuitive drag-and-drop control, with test editing including versioning control for full traceability. The test attributes system can be used to store information such as lists, notes and images.
3

Summary of Improvements

This document covers the changes and improvements to the following products:-

 
VectorPro Version 6.5.0.0 (30/06/20)
The latest production firmware releases for all Vortex-dV, MultiTest-dV/dV(u) and OmniTest test stands remains at V3.1.1.
Note: MultiTest-dV test stands can only operate in "dV(u)" (Materials Testing) mode with VectorPro software if:-
1) They are installed with firmware version 3.0.2 or later and
2) It's a MultiTest-dV Mk2 model (from December 2017 onward), or later
3) VectorPro MT dV(u) Software Kit (840-425) is present
4

Contents
5

Known Issue Fixes
Fixed calculation issues with VCS Operations
Added support for the "pause state" in VCS Operations
Fixed looping/cyclic issues with VCS Operations
Signup/login/forgot with the VCS accounts will send automated notification emails to "vcs@mecmesin.com"
Fix VCS login issue
Fixed some translations issues.
6

Vortex-dV and MultiTest-dV Firmware Change Log (within the test stand)

Note: MultiTest-dV and Vortex-dV firmware is currently at version 3.1.1

No new features in this release.

No new features in this release.

 

 
7

VectorPro Lite Function Change Log (Applicable to VectorPro MT also)

 

Note: VectorPro software is currently at version 6.4.0.0

No new features in this release. 
8

OmniTest and MT-dV(u) Firmware Change Log 

Note: OmniTest and MultiTest-dV(u) firmware is currently at version 3.1.1

No new features in this release.

 
9

VectorPro - Vector Cloud Solutions (VCS)

 
9.1

VectorPro Cloud Solutions Logo
9.1.1
Major Feature
Added VCS Export 1st iteration, incorporating Vector Cloud Online Viewer and html configurable reports.
For an interactive example of the VectorPRo Online Viewer click here:   https://ahpublic.s3.eu-west-2.amazonaws.com/VectorPro/vcs/export/live/view.html
9.1.2
Benefit of VCS
VCS is the platform to allow the sharing of new operations that are not available within the UI of VectorPro.  VCS export expands on our Vector Cloud development.  In this iteration, VCS export allows the sharing of data from a single sample in VectorPro via VCS.  This feature introduces the online viewer and html report templates, and a single page report can be printed directly from the online viewer.  Because this is a VCS feature, customers wishing to benefit from it will have to have a VCS account. 
VCS Export is accessed from the VectorPro live screen by selecting a sample from the sample carousel at the top of the screen.
9.2

VectorPro Cloud Solutions Export Activate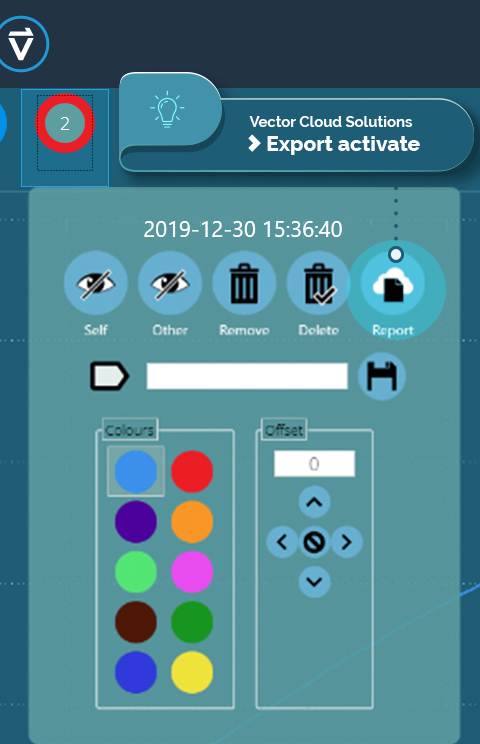 If the operator is not logged into their VCS account then they will be prompted to log in as described in the release notes for VectorPro 6.4.0.0.  If they are already logged into their VCS account then they will be prompted for a target email address to receive the shared data link.
9.3

Send export email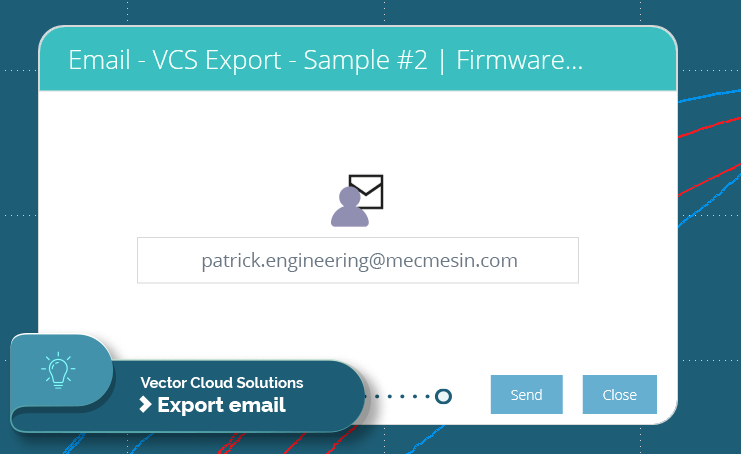 VectorPro will send an email to the target address containing a link that will enable the recipient to view the sample data and ancillary information.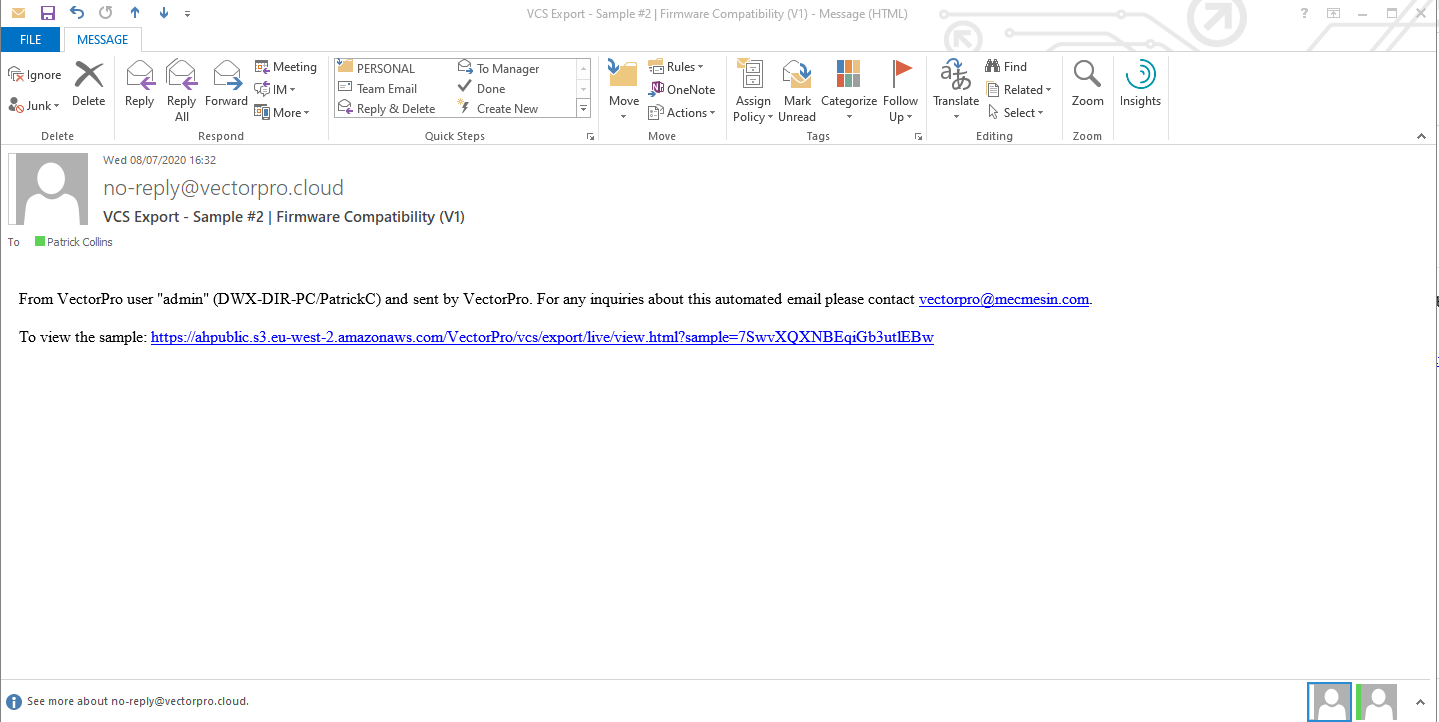 When the recipient clicks on the link, provided they have an available web browser installed, they will be shown the data using the Vector Cloud Online Viewer.  The UI is deliberately similar to VectorPro but can be accessed regardless of the platform used to view, so smartphones, tablets, PCs and Macs can all be used to view VectorPro data.
9.4

VectorPro Cloud Solutions Online Viewer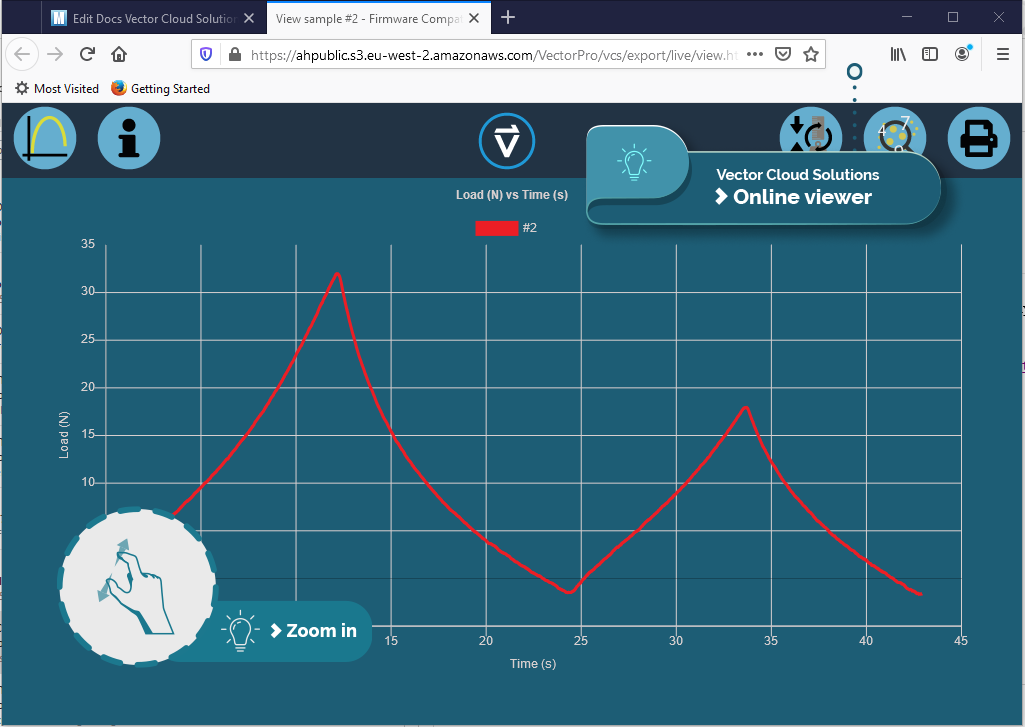 Like VectorPro, the graph can be zoomed and panned using finger gestures on touch displays and the icons at the top of the display lead to additional information and functionality.
9.4.1
Graph Options
The user can choose to view the data using different x/y domains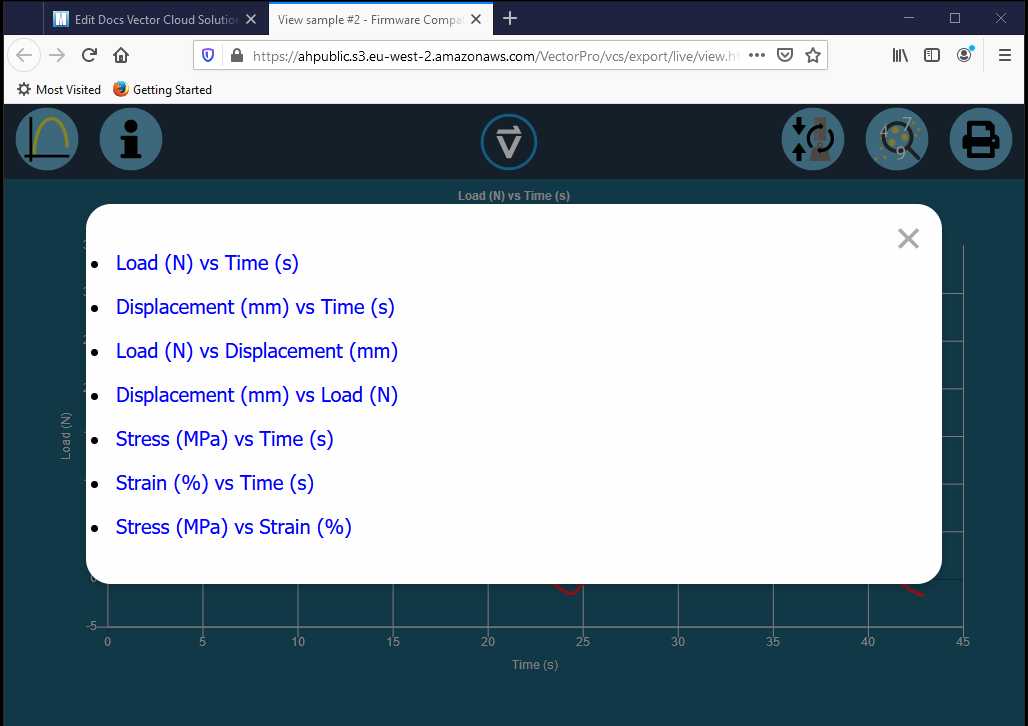 9.4.2
Information

Displays additional information regarding the sample data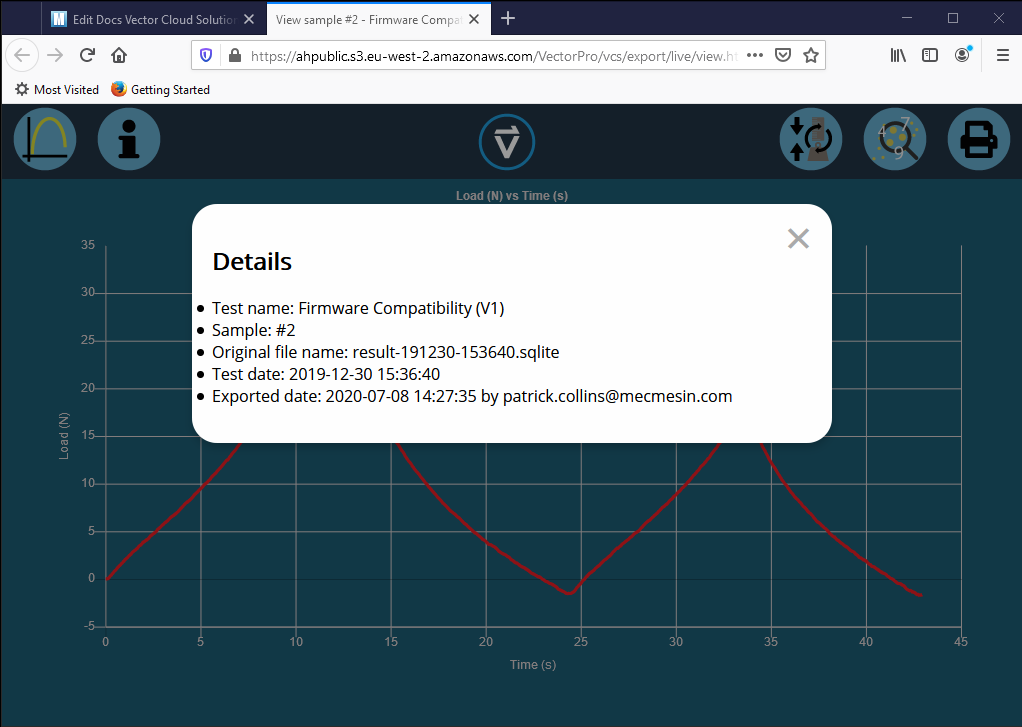 9.4.3
Operation timeline

Shows the user the timeline used to collect the data.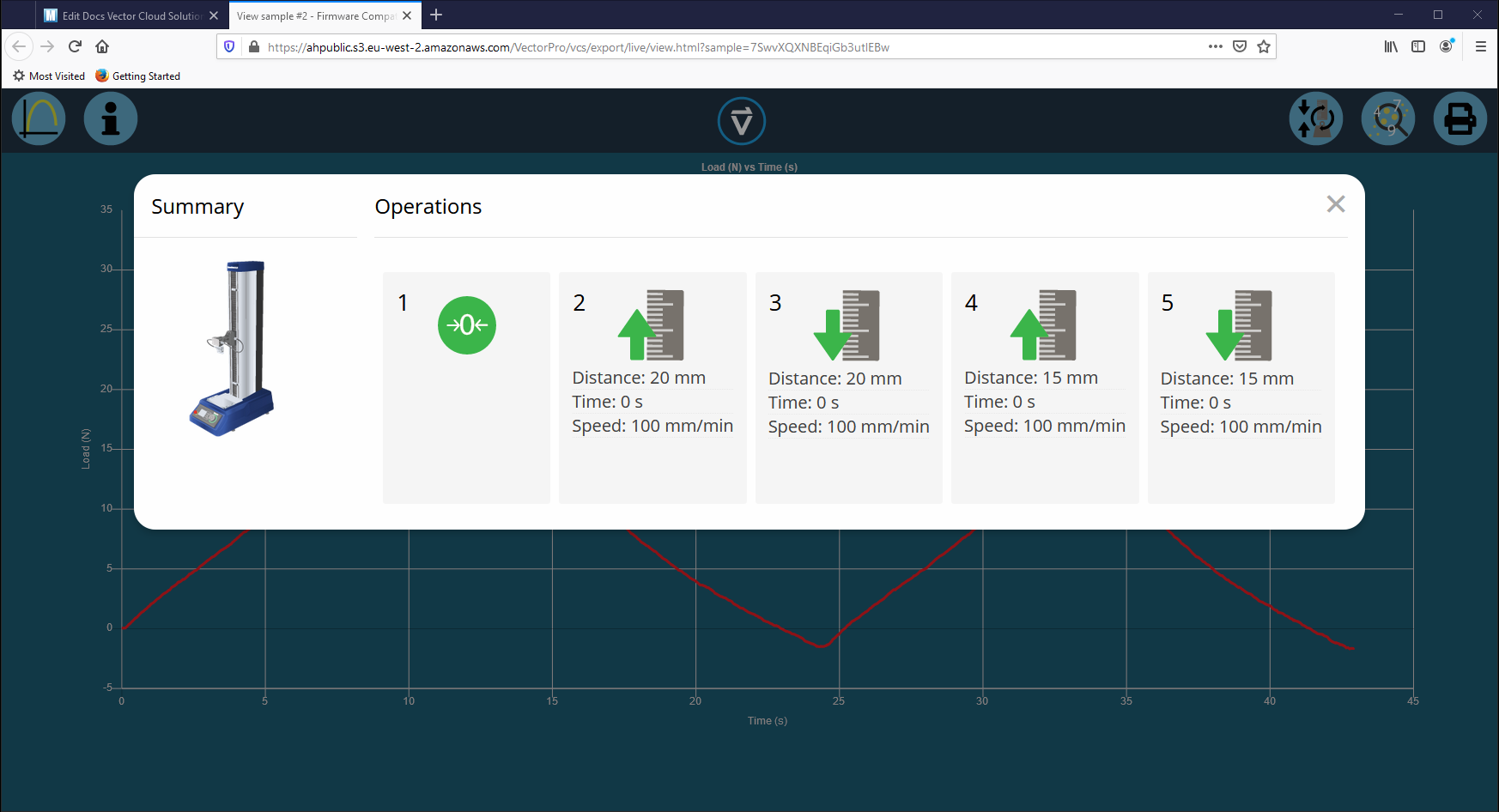 9.4.4
Test results

Shows the user the sample test results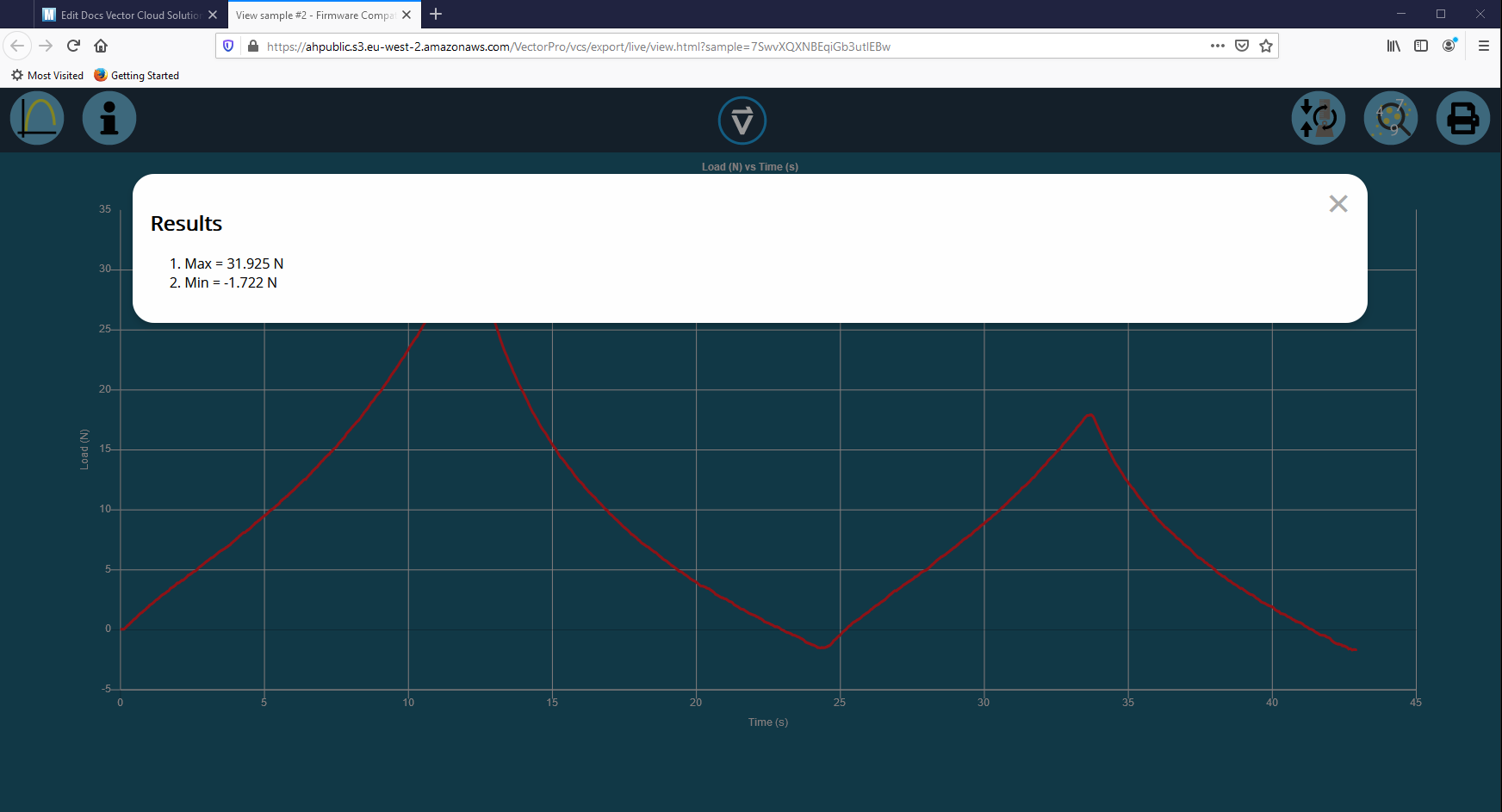 9.4.5
Sample Report

 Allows the user to print a report and provides a number of options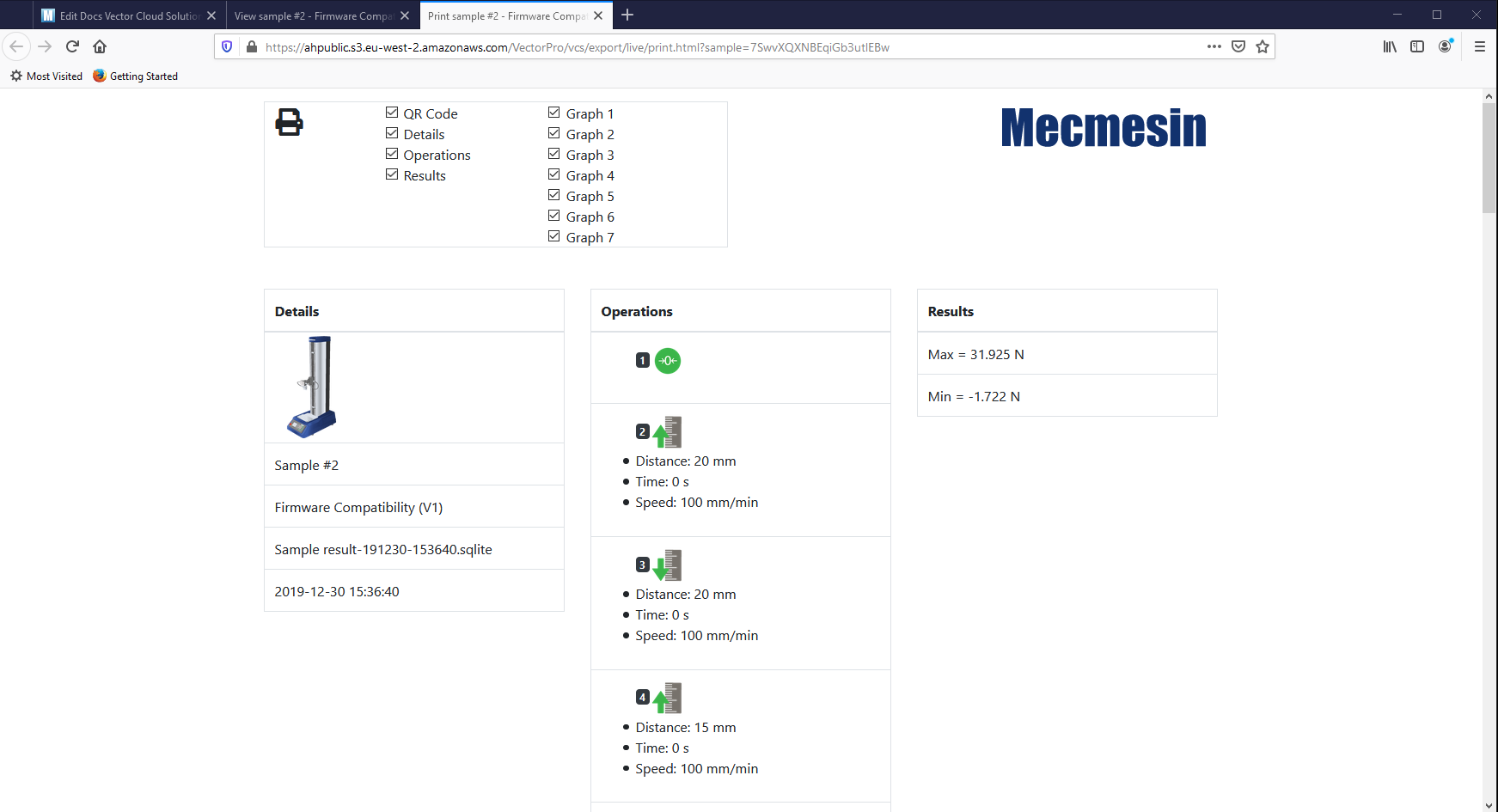 One option to note is the QR code.
If the QR code is included then whoever has the printed report or pdf on screen can point their mobile device's camera at the QR code and be shown the sample data using the Vector Online Viewer.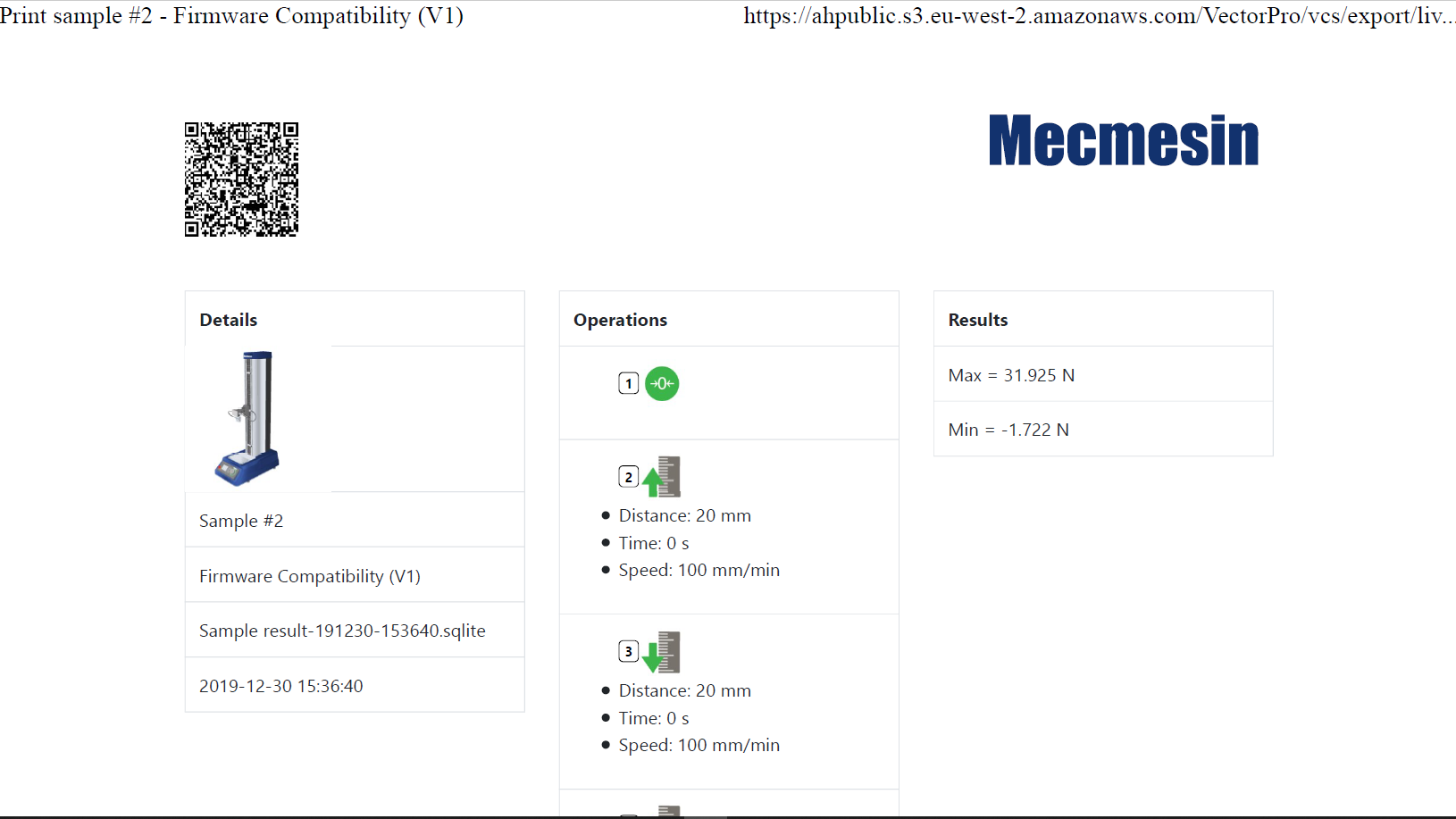 9.4.6
Benefits
VCS export is the first iteration of a truly exciting feature development to bring simple and effective data sharing to VectorPro users.  By signing up for a free VCS account users are given the opportunity to share test data among their colleagues or customers / clients around the world with a few clicks..  The feature set for VCS is set to expand in forthcoming releases.
10

Video overview