MultiTest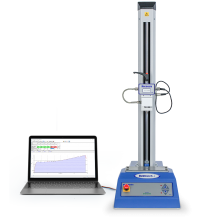 The MultiTest is a versatile tensile and compression tester controlled by software running on a PC (-i and -xt models) or as a motorised test stand (-dV model).
Available in a range of capacities as both single and twin-column from 0.5 kN right up to 50 kN, it is ideal for product testing applications according to your own test methods.
Guides
This guide describes how to update the USB driver for dV stands in Windows OS

This document explains how to configure an AFG to communicate with a Multitest dV test stand

A Guide on Installing or Updating Vector Pro software.
Manuals
Mecmesin Long-Travel Extensometer User Manual

MultiTest-dV Tension and Compression Test Stand Operating Manual

Designing a Test (VectorPro Lite Version)